"The key to preservation is education; part of education is being out in wilderness."
- Nick Grimes, OARS at
www.oars.com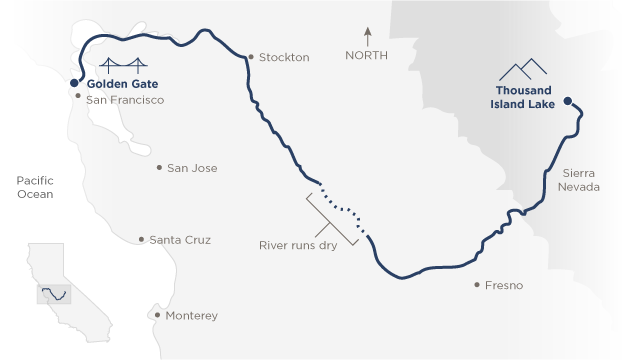 A map of the San Joaquin River, from its headwaters in the Sierras near Yosemite, to beneath the Golden Gate Bridge in San Francisco. Map from www.CNN.com
John D. Sutter, a novice kayaker, walked, paddled, and dragged his kayak along the entire 417-mile stretch of river.
John D. Sutter wrote:
"We're in the era of dead rivers -- a time when they've been so dammed, diverted and overused that many of them simply cease to flow.
Last year, CNN readers voted for me to do a story on the "most endangered" river in the country as part of my Change the List project. Many rivers could vie for that title. Earlier this year, the Colorado River flowed to the sea for the first time in decades -- and that took an international agreement. The Rio Grande, which forms the U.S.-Mexico border, often doesn't make it to the ocean, either. And the Mighty Mississippi is so polluted by farms that it feeds a Connecticut-sized "dead zone" in the Gulf. The advocacy group, American Rivers,
www.americanrivers.org
, however, chose the San Joaquin as the "most endangered" river in 2014 because it's at a turning point. Depending on what happens soon, it could become a river reborn, or a drainage ditch.
I had a personal reason for wanting to kayak the river, too.
"Most people are
on
the world, not in it," wrote John Muir, the famous naturalist who traveled the Central Valley and the Sierra Nevada and whose journals I would carry with me down the San Joaquin.
I think this notion of being disconnected from the natural world is especially pronounced when it comes to rivers."
Check out John's blog about his enlightening journey:
http://www.cnn.com/interactive/2014/09/opinion/endangered-river-ctl/